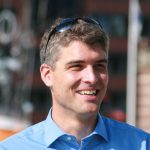 Ulf Sonntag, Lecturer
University of Paris 1 Panthéon-Sorbonne, IREST
Ulf Sonntag is head of market research and associate director at NIT, Institute for Tourism Research in Northern Europe, Kiel, Germany (www.nit-kiel.de). He studied geography, political science and business administration at the University of Bonn, with international semesters in the USA and Switzerland. He is a lecturer at IREST, Institut de Recherche et d'Études Supérieures en Tourisme at the Université Paris 1 Panthéon-Sorbonne, for "Quantitative Approaches in Tourism" and at the University of Seychelles for "International Tourism and Competitiveness of Destinations and Enterprises".
One main focus of Ulf's work is the analysis of tourism market data and statistics, as well as the implementation of quantitative and qualitative market research projects. The insights regarding the dynamics of tourism at different spatial levels (regional, national, international) are then applied in strategic planning and marketing processes of destinations and travel companies. Among other things, Ulf is project manager of the German Reiseanalyse (www.reiseanalyse.de). A second focus of his work is the implementation of international projects regarding sustainable tourism destination development and management (e.g. www.charmingvillages.eu).